Brushly Instant Detangler -🔥 ( BUY 1 GET 1 FREE )
Brushly Instant Detangler -🔥 ( BUY 1 GET 1 FREE )
24H SHIPPING!!
$37.00
$73.00

🔥 BUY 1 GET 1 FREE
Detangling children's hair is not always fun and the mere sight of the comb can be enough to make little ones cry.


That's why we designed our detangling hairbrush.
With its innovative design combining boar bristles and nylon tips, the brush glides smoothly over tangled hair without the discomfort of traditional brushes.

This bristle and nylon hair brush is quick-drying and easy to clean. The non-slip design rubber handle is convenient to hold.
It can massage your head during comb, why not try it?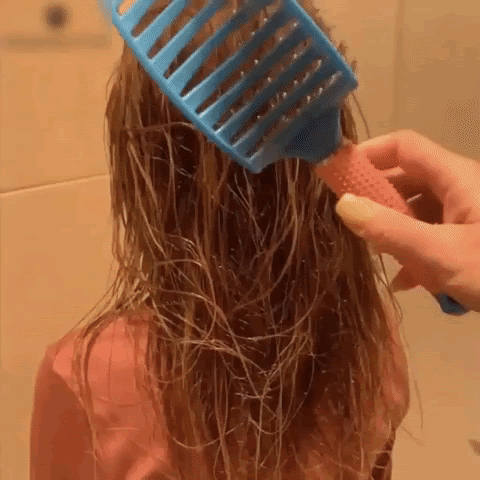 FEATURES:
Take On Tangles: Brushing out hair that's full of tangles can be quite the pain! But our innovative brush with combined nylon tips and boar bristles glide easily through tangled and wet hair, leaving your strands soft and manageable.

Silky & Shiny Hair: Natural boar bristles promote healthy hair by stimulation natural oils from the scalp. It helps lock in moisture, balance strands, and release negative ions for shinier & healthier hair.
Phenomenal Flexibility: Features an extremely flexible body that conforms to the shape of your head, giving you a gentle glide every time.
Dry In No Time: Our vented hairbrush with open slats allows maximum airflow, drying your hair in record time. 

Ergonomically Designed: Holding styling tools for hours is exhausting, but this ergonomic, non-slip handle is convenient to hold, it won't tire your hand as quickly as other brushes.
Stimulate Hair Growth: This hairbrush has a large head with a curved shape that allows optimum contact points and angles with the scalp while promoting natural hair oil stimulation.
For All Hair Types: It can be used by men & women regardless of hair type. Fine hair can take advantage of the boar bristles stimulating natural hair oils for healthier hair, while thicker hair will enjoy the detangling features of this hairbrush. 
SPECIFICATIONS:
Material: ABS 
Size: 7.5 x 25cm
Color: Red, Pink, Black, White, Golden, Purple, Blue
Package: 2* Boar Bristle Brush